Yes, those are squirrels playing cards. I found them on the
Victorian Era Fan Guide
, a website full of amazing things.
Walter Potter
, who made this display, was famous for his anthropomorphized taxidermy scenes.
Taxidermy was a major hobby in the Victorian era, as people were trying to make sense of the new industrial world as well as the scientific revelations of scientists such as Darwin. However, Potter's work was quite special. Most of it was not so much about preserving the natural world as taking dead animals (none of whom were killed for this purpose - it was against his belief system) and giving them a new kind of life. He was particularly fond of what then were called 'freaks of nature,' or animals that were born with extra or missing body parts.
Potter's work might seem bizarre to us, but it was incredibly sensitive and loving. It's obvious that he had a deep respect for animals and that they weren't just objects to him. Today Potter's work has many admirers who have tried to create work in the same spirit. However, the man was one of a kind, and his type of Victorian whimsy will probably never quite be recreated.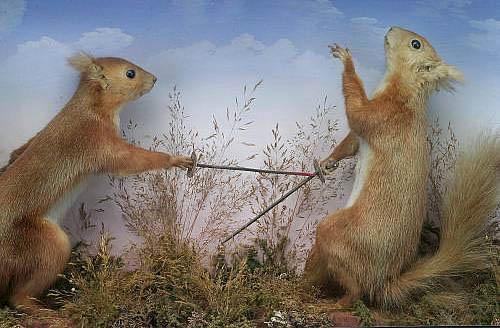 To find out more about Walter Potter and others who have practiced and loved creative taxidermy, see
here
,
here
and
here
.